I'm sending these from a recent tourney from the Minnesota High School fishing league my son is in. We were in my 2nd owned 620FS and we absolutely love it.
Jim R.

Letter from Doug S about his recent purchase experience.

Whether I'm out with clients, fishing a walleye tournament or just fishing, my Ranger 620FS is a top notch boat. I can't imagine being out on the water with anything else.
Cory L.

Y'all are an amazing company, one of my all-time favorites! I've grown up with my parents owning a Ranger boat. We would take it out just about once a month my whole childhood so I kind of grew up on the thing! Now that I'm older, I'm beginning to look into purchasing my own boat and of course Ranger Boats is my one and only choice! The quality honestly just doesn't compare to all these other competing companies. Starting the boat search reminded me of how amazing y'all are and how much I appreciate the quality you put into your boats! Definitely my favorite company by far. Just want to let you guys to keep doing what you do! You've earned a customer for life!
Robert M.

I bought this 1994 374V brand new. I had to put a 150 on it because back then it was all they would let you run in the Red Man All American tournaments. My dealer ordered it for me, it's a one of a kind. I have had it since it was new. I've kept it waxed and cleaned and people still ask me if it's a new boat even now! I told my wife if she would let me buy it, it would be the last one I would ever buy. She is passed now but I've had the boat for 25 years! You may think I have not used it much but this boat has fished all over the South and Southeast, even to Texas where I fished Lake Fork. I have never even replaced a fuse in it; it's got the same engine and trolling motor that came with it! Now, if you are young, spend the extra money and buy one, it's a lifetime boat. Trust me, I am 67 now and should have done it sooner! Thanks Ranger, I am still a happy customer!
Allen R.

So here is my story. I bought this 1989 390V off a kid in Cape Coral, Fla. in 2010. His dad had died and this boat was left to him, and it wasn't running etc. I did a full blown restore that you can see YouTube vid. (click the photo for the video) After about three years the gelcoat started peeling off, but I really didn't have the money to do it again. I won many tournaments out of that boat. So finally, we had some extra money and my wife says why don't you get a new one, so I have been contemplating what I should do, because boats aren't built like this anymore. It rides great in rough water, like a Cadillac. So, I kept it and restored it. I put on a new trolling motor, electronics, and finally new rims. Check it out! My 1989 Ranger 390 V.....30 years old!
William U.

Here's our 2006 Ranger 521. This is our 3rd Ranger and we absolutely love this boat. Not only do we love to fish or just go joyriding whenever we get a chance, but we use the boat to help support our favorite children's hospital, Cook Children's in Fort Worth, Texas. Our non-profit organization; CARA YOUNG FISH FOR LIFE TOURNAMENTS, holds several annual events to support the hospital, one of them being our teddy bear drive which benefits their Prayer Bear Ministry. We have been able to donate a little over 1,000 teddy bears in the last two years. May sound like a lot but it's just a drop in the bucket as Cook Children's has given out over 15,000 teddy bears each year in 2017 and 2018 (that's a lot of kiddos coming to the hospital). These photos were taken at the main entrance of Cook Children's at our 2018 teddy bear delivery.
Steve A.

This is my 1973 Ranger acquired in the mid 1970s by my grandpa, Dean Haynes, from the original owner. It has always been garage kept. My dad, Jason Bridges, and I bought the boat from my grandpa in May 2017. We use it about 2-4 times a month for bass fishing. The boat is all original.
Jaden B.

I currently own the only Ranger VS1882 in Eugene OR, or maybe in the entire state. I've dreamed of owning a Ranger since age 8 when I would watch Jerry McKinnis' "The Fishin' Hole", and now have a Ranger, Mercury, Winnebago, and only fish with Stren line. I am 46 and own this dream machine. I'm very blessed; it is perfect for me.
Shailesh P.

This boat is awesome. I bought it two years ago. And while I have had several newer bass boats, this one is the best by far for smooth ride, maneuverability and handles rough water like a cruise ship. Heck the original flasher mounted in the dash still works fine. It originally was purchased new by a pro bass guy in Ohio and then sold to a guy in PA. I don't think the guy in PA used it maybe six or seven times in 10 or 15 years so it sat idle for a long time and it is 99% like new. I love it to death and when I use it, which is a lot, everyone close by comes over to look at it and ask what year it is and a ton of other questions. It's a great promotion for Ranger, a beautiful boat.
Ken S.

Spent the week at Mille Lacs in a 15 mph wind all week, was so thankful to be in my Ranger Z520. It handles rough water like a champ.
Mark B.

In 2015 we lost our mom to pancreatic cancer. The three of us brothers live far apart and didn't get to spend much time together up to that point. My entire adult life I had dreamed of owning a Ranger boat. I had fished out of them when I first started tournament fishing at age 16. So with the little bit of money mom left me, I found a Ranger for me! The only downside was it was in Tampa Bay and I live in Reno. So my two brothers and I decided we would road trip it to Florida, pick up my Ranger 461VS, and fish our way home. It took 3 days to drive there and we got to fish on some amazing lakes including Okeechobee for the next week. That is a trip that we will never forget! I won't own another brand as long as I live! #RANGERPRIDE #RANGERBOATS #FOREVERRANGER
Josh U.

I'm a first time Ranger owner and I'm very impressed with my 2360 Bay Ranger. Great boat!
Gary. R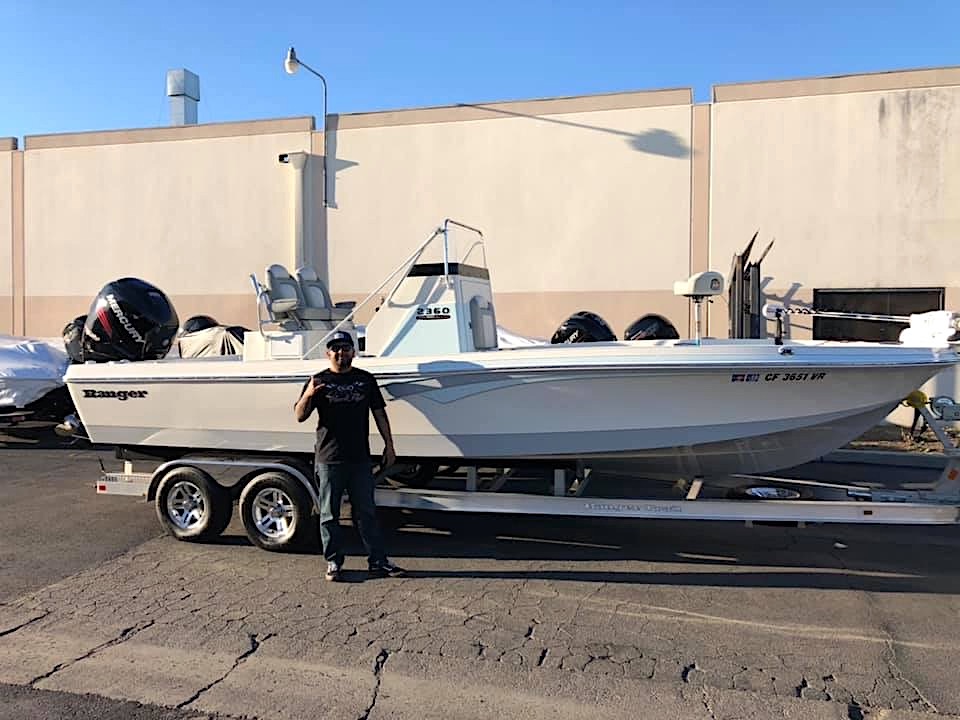 Three years ago, I found my dream boat. A 2002 Ranger 205VS with 200 HP Mercury OptiMax. This boat is incredible; fast, stable and dry. Storage space is awesome. I really love my Ranger. Thanks to all who designed and built it.
Russ C.

Just bought my first boat, Ranger Z520c and I'm in love. It has dual 12" Carbon and an Ultrex trolling motor. Words can't come close on how excited I am to be in the Ranger family now. I'm currently learning how to operate it but just wanted to say thanks to Ranger and the people here in Tulsa for providing me the best boat I could ask for.
Dustin J.

I have an original 1970 Ranger fiberglass jon boat. Its just under 16' long, with a live well and 3 seats. Still a good boat after all these years. And hardly drafts anything. It's caught smallmouth in Arkansas and salmon/steelhead in Michigan. Forrest knew how to build em!
William R.

Picked up a real nice 2007 Z20 about 3 weeks ago and I'm a happy camper. No, happy boater. Actually both, I fish local tournaments (Arizona) and a few out of state tournaments also... Texas, Arkansas, Louisiana and Northern California. I have been a Bass fisherman for over 40 years, yeah I'm an old fart. I have fished out of several different (brands) and sizes of boats and my favorite is this Z20, 225 Mercury OptiMax. Smooth ride, very dry and fast boat. The room is absolutely unbelievable. I guess one could say I LOVE MY RANGER Z20. Fish On.
Norm D.

At the age of 57 I decided to buy my dream boat! I have owned many boats ...well what a dream it is! Beautiful, fast to me at 72mph loaded, stable while fishing, and great in big water. What can one say but AWESOME!!!! RANGERS Z520c, WHAT ALL ARE COMPAIRED TO.
Robert F.

Bought this beautiful one-owner 619 Fisherman Series 2002 model with 100 hours. ... This boat is 15 yrs old but still looks brand new and handles rough water like a dream. The people at Ranger and the customer service is the best in my opinion.
Randy G.

This is for everyone involved in the development of this craft. Thank you. This is my first bass boat. I wanted one safe, stable, and above all reliable. The 2013 Z521c teamed with the Mercury 250 Pro XS... this is the boat of my dreams. The previous owner kept this craft clean as a whistle and running as if it was new. First time on the big lake yesterday and you should be proud. This craft met all my demands. It out performed my wildest dreams. The power and ease of operation was incredible. The Merc 250 Pro XS was the perfect power plant. It made this large craft seem smaller because of the ease it went to plane. The steering was effortless. To say I'm pleased would not be enough. So from this first time buyer...thank you!
George D.

OH MY GOSH. ARE YOU KIDDING ME? MY NEW 2017 RANGER COMANCHE IS AWESOME!! I HIGHLY RECOMMEND THIS BOAT TO ANYONE AND EVERYONE. I HAVE FISHED OUT OF ALL OTHER BASS BOATS. THE RANGER IS BY FAR THE BEST. THE EMERGENCY BRAKE ON THE TRAILER I THOUGHT I WOULD NEVER USE. HA, I WAS TOTALY WRONG. I USE IT ALL THE TIME. WHAT A GREAT OPTION. I LOOK FORWARD TO NEXT TIME ON THE WATER. WHAT A GREAT BOAT!
Jeff L.

Just got my first Ranger 2004 520DVX, and I love the way it rides! So glad to be in the Ranger Family! Now all I have to do is talk Dad into buying me a new one! :)
Jeffery F.
Baltimore, MD

My immaculate Classic '87 375V Ranger remains flawless in appearance and (especially) performance. Finding it hard to part with due to a health problem...but will have to. The Cobra V6 is awesome. Sure would like to find someone with the knowledge to appreciate this fine craft to take over the ownership.
Michael M.